2019 — "Fresh" ad Campaign
Pre Production Documentation
April 24, 2019 — UPDATED May 24, 2019*
Prepared for OLEO, By Inland Film Co.
First — highlight athletes and their stories through the films.
Second — elevate the benefits of OLEO and how it can positively impact your journey as an athlete.
Third (not least) — talk about CBD as if it is commonplace. We want to get away from discussing the stigmas of CBD and assume the audience is already comfortable with it. For every question we try to answer, the audience will possibly ask 10 more. Because of this, we want to believe the best - and assume our audience is intelligent and has come positive conclusions on their own.
Uplifting — using our style, and giving things an organic look to make people feel like they're part of something, or even like they're there.
Upbeat [BIG] — using a song that will elevate the visuals, we plan for this to be moved by a strong beat and to feel big.
Action — through a mixture of wide and tight shots, quick cuts and, fast movements, this promises an action packed film made to hold people's attention and wanting more.
Examples of past work
Style reference. Color. Look and feel.
WHAT WE LOVED
Color - We loved the visuals we were able to get for this, and particularly liked the color grade we applied to the visuals. In the case of the OLEO "Fresh" campaign, we'd like to be able to work with light more and create each lighting scene as best as we possibly could to get the look and feel you'll see in the example (inspiration) below.
Tight shots - We loved getting up close and tight on the subjects, with a wide angle lens. This gives the audience a level of intimacy. The focus maintains on the subject, or the action. There's a level of care in your heart specifically for the individual in frame with a shot like this — and no other distractions.
Action sequences - We loved seeing the athletes in action, and getting up close on those moments. Most people don't get the opportunity to see what it is these amazing people do that up close and personal, and getting those bits caught on camera help tell that story and open the eyes of the audience in new ways. For those familiar with the athlete's lifestyle and regiment will know exactly how it feels being in those scenarios through this form of storytelling.
some inspiration
The above example (inspiration) was for a clothing brand, Under Armour, but we really liked this look and feel. It shows the hard work and determination athletes commit to. With this look and feel, we can get the point across how exhausting daily workout routines are. We can then include multiple moments where we interject the OLEO product line, and see the athletes filling their water bottles with OLEO.
Big Song
Focusing on making the greatest impact, we chose a song that's big, and carries a beat that will pair perfectly with fast cuts, wide and tight shots, action, and emotion. When we listened to "Fresh" (above), it clicked. We knew this was the song to tell the story of how OLEO helps people reach their potential training and working out.
By using fast cuts and natural sound, we'll be able to get the heart racing. We'll convey this is a product related to an active lifestyle.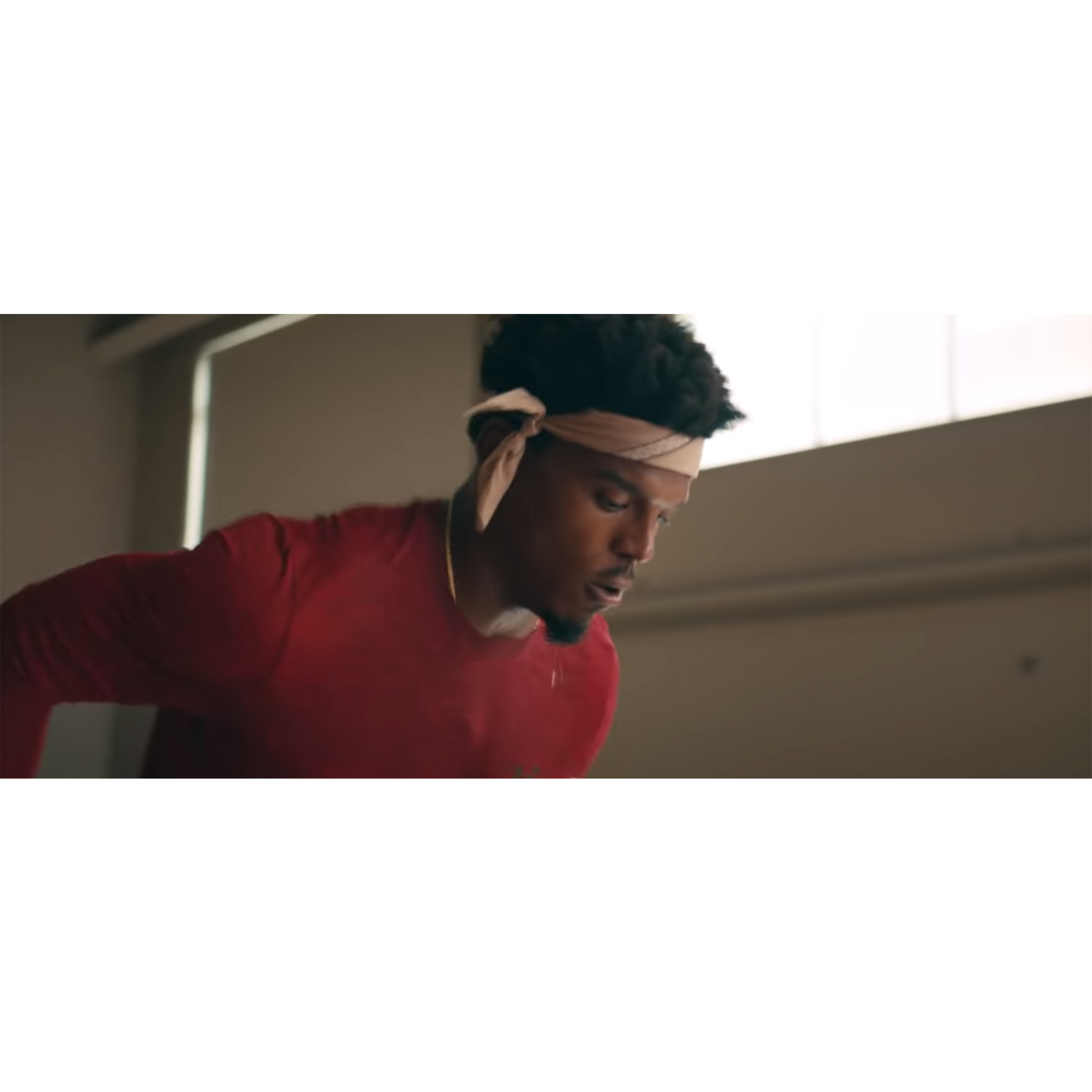 We will get tight shots by getting up close and personal with wide angle lenses. The purpose of this will be to keep the focus on whoever is in frame at any moment and/or the action taking place. There's a sense of intimacy with shots like this, and you don't risk your audience becoming distracted. Nothing else in the moment (as a viewer) matters.
We'll want to get shots of very specific things happening, and gather the natural sound from them. In order for the fast cuts and tight shots to work to their fullest potential, we'll need to be diligent about talking through all the possibilities for the best action sequences.
In order to fulfill all potential in a film like this, we'll want to highlight the product being used. The goal here will be to instill a sense of curiosity in the audience - "what is it they are using?" or "will this help me recover, renew, etc?" or "where can I buy this?"
We'll also get wide shots of the activities these athletes perform, with the product present in the shot (off to the side, or near them).
We Propose
To begin, we propose telling one athlete's story through a film. We'll make a 120 second (two minute) version where they talk about life as an athlete, and find ways to talk about the product. We'd then make a 30-60 second version of the film, that doesn't include much narration (if any at all).
We'd then hope to film three more stories over the coming months, and would plan on creating three more 30-60 second short films for each of the athletes and their stories — and one 120 second short film telling all of the stories together, mixing and weaving with one another for a full bodied story.
what's it going to Take?

Pre Production — Two Weeks
May 6th - May 17th
Basic script/interview questions, storyboarding, location scouting, casting, scheduling with OLEO and athletes.
Filming Days — One
Late May
Athlete Action - 0.75 Days
Athlete Interview/VO - 0.25 Days
Post Production: Two Weeks
June 3rd - June 14th
Crew
Director
Cinematographer
First Assistant Camera
Production Assistant/Boom Operator
Editor
Color Artist
Drone Pilot
Music License
Final Products — Two Films + Four 15 Second Shorts*
Included: 4K Versions (for Facebook, YouTube, Presentations and more), as well as Instagram specific versions (tall/vertical).
30 - 60 Second Ad — "Fresh" Athlete Action Film
120 Second — "Fresh" Full Story w/ Narration
15 Second Shorts (X4) - "Fresh" Cuts (geared for Instagram)
Camera Equipment and Gear
Deadline
June 14th
Budget
$7,500 + Travel
[Hotel - two nights, two rooms (4 people); Mileage - 58 cents per mile; Meals - $80 per day, per person]
Opportunity for Discount*
If you can commit and agree to film the next three athlete films in this campaign (produced within the next 12 months, or sooner), we would be willing to apply a $1000 discount (13.3%) towards each of the four films. Inland Film Co will allow OLEO to option the discount within 10 days of the completion of the first project.
Additional Opportunities*
Weekly Videos
$4000 per month (plus travel) = weekly [up-to] 60 second documentary style shorts per month.
Logistics: unscripted (any speaking to the camera is on the client), half-day of filming, weekly films.
NOTE: it will make most sense for us to film one full day every two months, gathering enough content for weekly films over the course of two months.

👇 If you want to get "Fresh", click that button 👇
Note: This proposal and budget does not include RAW Footage. Inland Film Co maintains the right to use the footage for marketing purposes.
…
The first point of contact at your organization agreed to the following terms, therefore you are bound to the following as well. You agree all vision and scope for this series of films belongs to Inland Film Co, you agree the proposal is confidential and will not be shared with anyone outside of your organization (OLEO).
…